There's nothing like a good binge watch to make you want to update your wardrobe right?
I mean, have you ever left a cinema or watched a show and thought 'wow – I wish I had those shoes!' or 'I'd never have thought to pair that shirt with those trousers…' That kind of inspiration can change your life.
There are some great roles and movies for actresses that have appeared onscreen through the years that not only represent a range of different women but also reflect our different styles.
Time to go through just a few shows/films that popped into my head with those ladies that had a style that stuck with me. I've also gone into a little bit of detail as to why this might be towards the end.
Let's see if there are any surprising ones…
Now, in no particular order…
Chanel Oberlin – Scream Queens
I liiiived for Chanel's pale pinks, furry jackets, heels and shades for every and all occasions. Her walk-in closet in a scene was my pause and absorb moment. With it's winding staircase, organised jewellery section and rails surrounding the circular room were like Barbie's dream. Even now, writing this, I can remember it vividly and I actually ache for a room like that. Here's a pic to prove my point:
I mean, there's even a 360 degree video of it:
Picture her now and you'll envision a pout, some big shades and a stomp in her designer heels with a clack that says "I'm Chanel, things go my way or else". A strut down the street and even during one of the latest murders in either Season 1 or 2, she's never caught off guard when it comes to a good outfit.
Some favourites are below: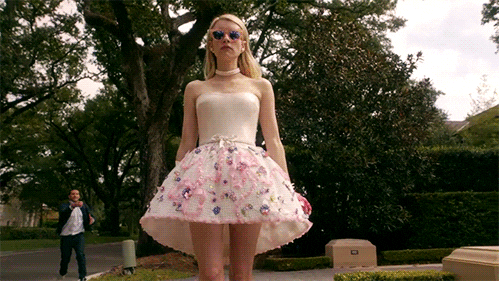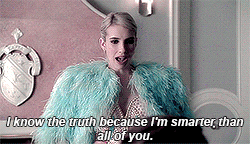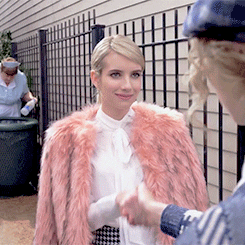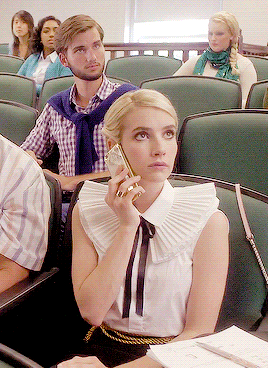 Oh so sassy, yet sophisticated.
Lara Jean – To All The Boys I've Loved Before
I'm talking patterns, colours, scrunchies and fun – it's still what you could probably pull off for work or school. Lara's quite naive to begin with, writing her feelings about the boys she's loved before (helloooo me, the clue is in the title) in letters never to be sent. At first her bright colours and simple style may reflect this as they're safe, primary colours and sensible.
Yet she becomes more confident and able to express herself through actions and words. Her journey ends with her being sure of her self and her feelings. She's still in her safe style, yet now it looks different because she's got it all figured out – she looks like she's put together. She's confident and ready for any kind of business – this business being telling Peter how she feels about him.
They're simple outfits with a lot of thought put into them. Not sure what I mean? Take a look and see if you follow: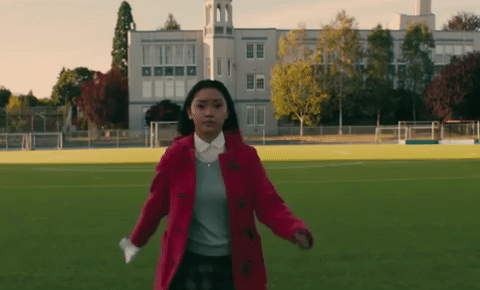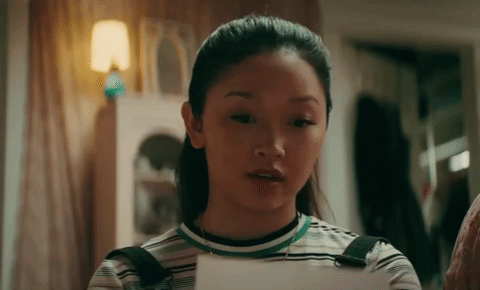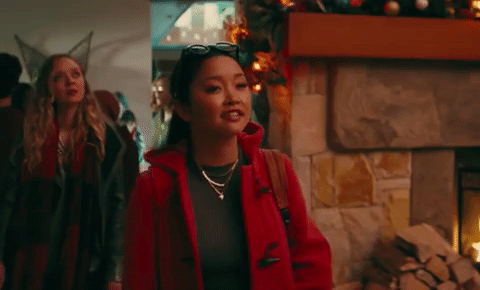 See? Think of the word 'chic' and you might think 'black' – black turtleneck, black shades, pearls… But Lara shows us chic with colour and I'm all here for it.
Ally Maine – A Star Is Born
Another recent film with a female protagonist (yaaaaas girls!), Ally's style evolves throughout the movie as she goes from waitress to superstar.
I loved seeing Lady Gaga as Stefani (her real name) – there's so much likeness to Ally's and Gaga's story that I felt that her more natural look was to show Gaga's beginnings, when she had brunette hair before her label asked her to dye it blonde.
Ally's first taste of the stage and a spotlight (that's away from the safety on her La Vie En Rose set downtown) is where her vulnerability is shown. She's hesitant to sing her own song, but when she steps up to mic she rocks it in her t-shirt and jeans, making her even more endearing and lets us want to root for her even more.
Once her career begins to rocket, her style changes with her clothes and hair as she's doing TV performances and award shows:
Without ruining the end, everything that's happened in her journey leads her to her most vulnerable set in the movie's finishing song. Yet she stands tall, assured of her own strength – while she knows it's a difficult time, she's been through enough to know she's strong enough to carry on.
---
Making this list not only made me realise the key of a good stylist on set, but also that a style can speak volumes on your character. I also found that when thinking about it a little more, I caught myself thinking that if I wore the same classy feminine clothes as Chanel I'd feel more outspoken. If I had my casual days with a t-shirt and jeans I could still blow people's minds away like Ally. The same colourful picks as Lara I'd feel comfortable and assured in my own skin.
So maybe, at the end of the day, it's not even about what they're wearing but about how the clothes make them feel.
Maybe it's about the iconic moments that happen in their iconic outfits when we're watching – like the characters reaching their 'aha!', lightbulb moment, enlightenment, happy ending, end scene and roll credits.
Maybe if we wear these clothes we'll find out our purpose, the reason why this plot of your work week or the latest drama in your life has happened and WHAM you're now full-grown, developed and confident woman. You came out of it all on the other side stronger, and looking damn stylish too.
Or maybe, just maybe, we just want the walk-in closet.
---
Let me know in the comments below if you've seen any recent movies or shows where you want to steal their wardrobe or call up their stylist! I'm after some more inspiration…
You can also comment and find more posts on my Instagram here: @DiscsAndReels.
If you go there from this post, include the popcorn emoji and I'll follow you back!