I bought an Elle magazine the other day, and in it the editor mentioned what a friend of hers would do every New Years.
Apparently, she would write a list of things that she wanted to achieve in the year, and post it to her address. She explained that by mailing it to herself, she felt that she was putting her dreams 'out there' into the world, and that doing this would help her dreams become a reality.
I'm going to try a similar tactic by writing my list of places that I want to travel to and post it here for you guys. Hopefully by doing so I'll actually get off my lazy bum and work on crossing them off my list – because these places are amazing.
For those of you who don't know me I turned 23 a few months ago, which gives me 7 years to tick these 5 places off my list…
I would absolutely LOVE to travel to these places because I feel it would really boost my confidence (I've never travelled alone before), I would love to get back into vlogging and travelling gives you plenty of vlogging material fo sho, and I would love to get a taste of different cultures and try new things (I live in the UK at the mo).
1. Miami, Florida
I've wanted to go here ever since Will Smith released 'Miami', no lie. I'm not even ashamed to admit it because I feel it's much better than if I'd said 'I want to go here because I like Miami Vice' (I've never seen Miami Vice and I don't think I want to either).
Not only are there hotels influenced by the Art Deco movement, but they also have so much to offer for someone like me.
I love clubbing, and Miami is no stranger to this because it has plenty of nightclubs – and you can typically find a celebrity/musician hosting a night.
They also have the Miami International Mall, which is where I can imagine I'd be spending most of my money! There's also something called a Metromover, which is one way of transportation, similar to a tram but it's in the air! I figure it would be a great way to see Miami from a bird's eye view.
It's also always been a little daydream of mine to go roller skating close to the beach… How Miami can you get?
2. Bora Bora
Ever since I saw the Kardashians episode where the clan took their family vacay to Bora Bora, the island has stuck in my mind as one place that I would definitely want to relax on.
Each bedroom was in it's own luxurious hut, and all the huts were linked only by the piers that you walked on to go from one to the next. The sea had the bluest of waters, and its lagoons are perfect for scuba diving to see the coral reefs.
As well you could always re-enact the Kardashian vacay Bora Bora music video while you're there too… Just a thought.
3. Los Angeles
Any film buff would love to visit the City of Angels.
From the Hollywood sign to the Walk of Fame to the Universal/Warner Bros. Studios, it's the one place where all the film stars can be found shining – whether it's because they live there or because the Oscars are happening.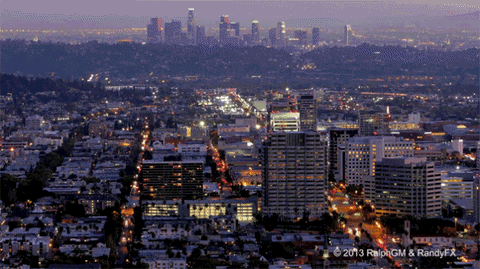 4. Tokyo, Japan
Tokyo has always been a place that's fascinated and intrigued me for many years now.
It's appearance is mesmerising to me because not only are there neon skyscrapers and their life is so technologically advanced, they also have places of serenity and peace. Away from the busy city there are temples, forests and gardens.
I found this article that listed 88 things to do in Tokyo – I mean, if that doesn't give you enough reason to consider going there I don't know what will. The only question would be is if there are so many things to do – how long are you going to stay there for?
5. Necker Island
I'd never heard of Necker Island until I saw a TV programme a year or so ago when Richard Branson showed us just exactly what was on his island.
And boy did it look good!
The villas there are definitely not cheap, and the beaches are perfect – they actually regularly use diggers to move the extra sand/seaweed that the sea brings in in order to keep the beaches in tip-top condition.
They also have plenty of fun water sport activities – from windsurfing, paddleboarding and sailing to snorkelling and scuba diving, there are so many lifelong memories you can make.
They also throw parties on the private island to encourage the visitors to interact with each other – so not only do you really get to let your hair down, but you also get to meet new people at the same time. And then if the partying has taken it's toll, they have spa treatment rooms on the island too!
---
So those are my 5 places to visit before I'm 30! Obviously there's a whole world out there and I could have picked anywhere, but these 5 I think I would really enjoy and would also broaden my horizons …I think I'd better start saving now… and maybe find a travel buddy
How about you? What are your dream places to visit? Where's the best place you've travelled to? Have you ever been to these 5, and if you have did you have a good time?
Let me know in the comments below. And thanks for reading!